http://www.airsofthawaii.org/ballistic/200706/protect.shtml
"You'll shoot your eye out kid!"
by Moondog
Copied from the Airsoft: 101 Forum
That's the nagging voice of your mom that should be ringing in your head everytime you pick up your gun. If you hurt yourself or your friend with your airsoft gun nothing will get your gun confiscated quicker. Nothing gets you respect from mature airsoft players than somebody who practices safety.
We can't stress enough the importance of wearing propper eyewear when playing airsoft. Even in you backyard, you need to wear eyewear that exceeds the
ANSI-Z87.1
rating. You should look for "High Impact" or ANSI ZD7+ rated goggles. And then you should preform your own test by shooting your goggles a few times from 1m (3ft) with a 400fps gun.
If your goggles withstand the test fire without a scratch or minimum scuffing, then congratulations you have airsoft safe goggles. If your lenses crack, then congratulations, they have passed the ANSI Z87.1 standard (they didn't break and protected your eyes). Unfortunately you buy new goggles, but that's far less costly than permanently losing your eyesight.
RECOMMENDED GOGGLES
Bolle T-800
The lenses are suspended from frame allowing for a small gap (too small for a BB to pass). This reduces fogging by allowing more air to flow through the goggles. But due to this design they will not protect you from blown dust or sand. They are large enough to allow players to wear eyeglasses under them and they can be comfortably worn over helmets.
Guarder makes a copy
of this goggle, though gear whores will prefer the real deal.
ESS
The US Army's primary goggle supplier. ESS offers a variety of goggle variants to fit most head shapes.
The Profile
is the new standard for Rangers and Green Barret and are designed to allow for the use of NVG and the
turbofan version
keeps you from fogging up in almost any condition and your wallet empty due the $150 price tag.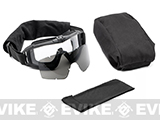 Revision Goggles
The US military's newest goggle supplier. A Canadian based company that originally supplied the Canadian military, its high performance military focus has made it popular with airsoft players. It's price point make it comparable to ESS. It makes 'Asian Fit' variants of its popular Locust goggles, which better fit players with shorter noses and flatter shaped faces.
The JT Vortex II add on fan is made to fit JT Elite and Spectra goggles and really helps reduce fogging. All JT goggles can be detached and used separately from the mask. PB maskes tend to get in the way of aiming with iron sights.
FlakJak Razorback Tactical Goggles
These goggles were designed to vent air into your goggles to reduce fogging. You have to be moving (forward) for it to work, so not great for snipers.
Army/USMC Surplus Goggles
These goggles can be found on Ebay, surples stores. Unforutnately the real US Gov versions and most copies were designed to only protect from dust. I was surprised to find that a pair of army surplus lenses I tested withstood 400fps BBs from less than 4ft.
G&P's version sold on Evike
use thicker ANSI certified lenses.
Swim Masks
These are the only masks I use with a balaclava because they won't fog due to breath. Swim masks work very differently from paintball goggles becasue they are truely full sealing. Moisture and sweat will condense inside the goggles. This may sound gross, but I use the condensed moisture to clear off any momentary fogging by tilting my head foward and letting it wash over the lense, cleaning them. It works but it's not for everybody. UPDATE: While these goggles are ANSI certified, they are not suitable for fields above 350fps as BB impacts from close range can crack (though not shatter) the lenses.
FOGGING
The biggest excuse people give for NOT wearing goggles is that they fog up when they play. That's no excuse. To reduce fogging you can do the following:
1.
Don't wipe with your finger.
Whetever you do, don't wipe with your bare hand because any oil or dirt in your hand will leave a film that makes moisture deposit quicker. So the more you wipe, the more often your goggles will fog up. Always carry a clean soft cloth to wipe with and always use clean water before wiping so you do not scratch your lense or any special coatings on the lense.
2.
Carry Defog
I carry a small vial of
my own patented defog
. After applying, shake any exess off and let it air dry rather than wiping it dry.
TIP: I carry my bottle of defog inside a white tubesock that I keep in my tac vest. If I absolutely MUST wipe off fog or gunk, I pour a bit of defog on the lenses and use the clean inside of the sock to wipe with.

3.
Clean your Goggles
After every game, rinse out your goggles with a little dishwashing soap and warm water. If you get a lot of oily buildup or mud on you goggles, you can use toothpaste on your finger to gently rub off any gunk built up on the inside lenses. Again be careful you don't rub too often or too hard as it can rub off any anti-fog coating.
Keep your goggles clean by storing them in a clean holder or a clean tube sock. Fog forms around dust, body oil and dirt on the lenses, so by keeping your goggles clean will help keep them from fogging.
4.
Buy Anti-Fog PB Goggles
Higher end paintball goggles come with anti-fog coated lenses or double-layered "Thermal" lenses. These both help reduce fogging.
5.
Buy TurboFan Goggles
Buy goggles with built in battery powered fans. Or add on fas. These really, realy help reduce fogging.
6.
Shooting Glasses
I don't recommend or advocate shooting glasses. Many public airsoft fields won't allow them. Besides not completely covering your eyes from all angels, ANSI impact requirements for safety glasses are much lower than for safety goggles. The only 'safer' ones are high-end
Oakley's
or
Gargoyles
. And even these can fail due to the frames (as evidenced in the
Airsoft Hawaii article
.) If you insist on wearing shooting sunglesses, you NEED to wear them with elastic (basketball style) straps so they don't fly off your face when you're running around or trip on the field. Here are two examples from my own photos:
This guy didn't even realize his glasses weren't covering his eyes!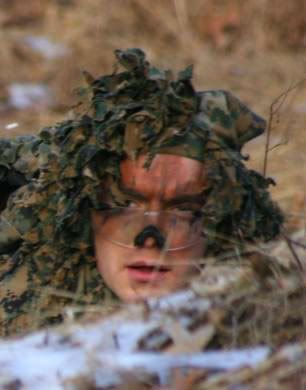 This BB got under his full-seal goggles! Just think what could have happened if he were wearing shooting glasses.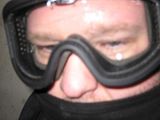 7.
Mesh Goggles
I don't recommend or advocate mesh goggles especially for CQB because BB's can break after hitting your mesh and send pieces of broken BB into your eyes. This actually happened to me and it wasn't fun. Many airsoft fields won't allow them for that reason. If you insist on wearing them you should wear backup glasses under them to protect you from BB shrapnel. But if you're going to wear 2 pieces of protective eyewear, you should probably just buy a good pair of paintball goggles.