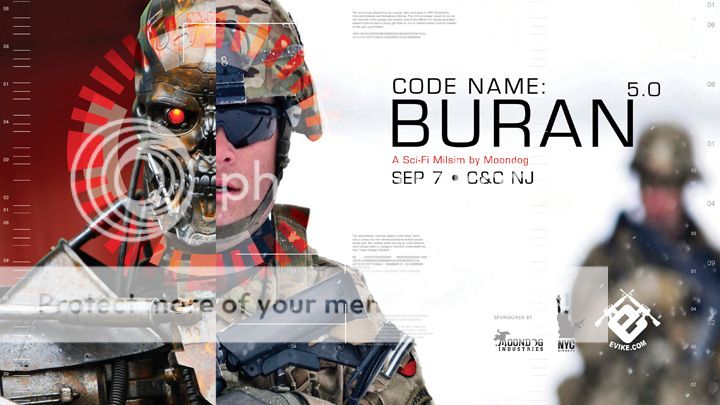 ABOUT
Imagine the move "Predator" set in the mountains of Central Asia. This is MilSim airsoft game with a sci-fi twist. This game is organized by
NYC Airsoft
to raise donations for the military veteran organization,
Team Rubicon
. All players will receive a complimentary raffle ticket with prizes donated by
Evike.com.
All pre-paid players will receive a free gift.
DATE
September 7, 2013
TIME
08:30 Staff and NPC setup
[09:00-10:00] Chrono/Sign In
[10:00-11:00] Group Photo, Safety Briefing, Deploy and Prelude Scene
[11:00-17:00] Game
[17:00-17:30] Raffle
LOCATION
C&C Airsoft
50 Lackawanna Drive
Stanhope, NJ 07874
PARKING: C&C is located behind Wild West City. Look for a gate to the rear left side of the Wild West City parking lot. Players may drive down the road to Staging to drop off gear ONLY. All players must park in the Wild West City parking lot or the C&C lot. Staff may park in the "Airfield" but be warned that the grass is very high and your car may get scratched up.
Click on image to enlarge
PRICE
$25 Early-Bird Tickets
SOLD OUT
$35 Regular Entry
A $5 S&H charge will be added to cover the cost of mailing you a player packet with the rule book, ticket and swag. Ticket purchases and deadline for refunds end Labor Day, 9/2/13. Purchase tickets online on Evike.com.
::LINK TO EVIKE.COM::
REGISTRATION
No walk-on players allowed at this game. All tickets must be pre-purchased at Evike.com and entry requires a physical ticket. Each ticket is color coded to a specific team, so you may only play on the team listed on the ticket. Team uniform requirements will be enforced (see below). If you lose your ticket, contact Evike.com for a replacement. Entry ticket is also your raffle ticket so don't lose it.
EQUIPMENT REQUIREMENTS
• 400fps/0.25g limit for full-auto capable weapons
• 500fps/0.25g limit for fixed semi-only weapons
• +18yrs (unless accompanied by an adult guardian)
• Full sealing goggles with retention (No shooting glasses; No mesh without secondary eye protection)
• Full face covering (masks, sheamghs, or balaclava) for minors
• 2 red rags
• +2 quarts of Hydration (no running water on field)
• FRS/GMRS radio
• HiCaps allowed using
Phridum's HiCap rule
GAME BACKGROUND
Turkmenistan: General Borat is selling the contents of a long forgotten Soviet weapons vault to buyers from Iran's government. Unknown to General Borat, within the vault are alien artifacts from a meteorite that crashed in 1938, its records lost in WW2. US and NATO have sent a Special Forces unit from neighboring Afghanistan to stop the sale to the Iranians. The Russians have sent an elite GRU unit to stop American's from recovering the stolen technology. An inexplicable emergency message was picked up by the NSA from Gen. Borat's garrison at the vault, "A machine from the vault is attacking us! Our weapons do not effect it. Send help!...."
TEAMS
Uniform requirements will be strictly enforced but the GM retains the right to reassign players in the interest of the overall game. Your vest color no longer matters for BORAT team.
NATO
Special forces based in Afghanistan.
Uniform: ACU/UCP, Multicam, Desert Digital, Desert DPM or Tripictarn. No black vests.
Secure Planning Forum:
viewforum.php?f=61
BORAT
Russian Spetznaz and Turkmen soldiers lead by General Borat
Uniform: Any camo not worn by the other teams
Secure Planning Forum:
viewforum.php?f=63
MIB (Men in Black)
SOLD OUT
Mystery security forces under the control of the GM
Uniform: Black or Blue solid
Secure Planning Forum:
viewforum.php?f=62
SPECIAL REQUESTS AND PLANNING
If you want to request a squad leadership position, a unit assignment with a specific group of friends, etc., you must identify yourself to your team's Commanding Officer (CO) on the official event thread on the NYC Airsoft Forum. Post your name and callsign and payment ID#
Link here...
viewtopic.php?f=64&t=2272