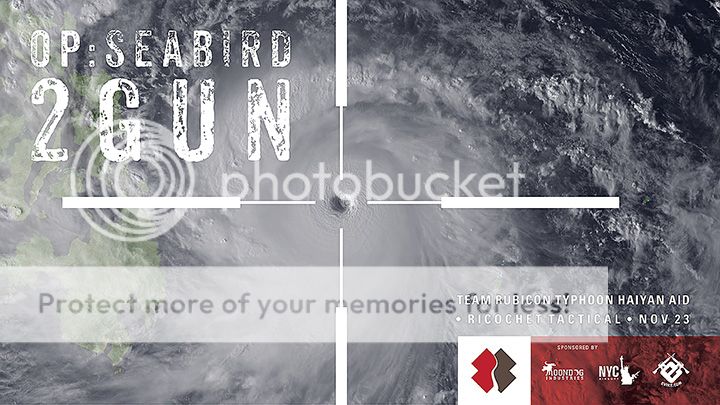 To help raise funds for Typhoon Haiyan aid, Ricochet Tactical and NYC Airsoft are organizing an airisoft 2-Gun competition. 100% of proceeds will be donated to Team Rubicon to bring medical supplies to the effected regions. Please share this link and donate if you can not attend. TEAM RUBICON DONATIONS:
http://fundraise.teamrubiconusa.org/moondogindustries
Players will compete against the clock to shot at a series of electronic targets positioned in a maze-like course. Players will start the using a rifle/SMG and then transition to a pistol to complete the course. Players without a pistol will be lent one. Each player will be allowed 2 runs and their best time will be recorded. Prizes will be awarded to the top 3 finishers. Discuss the event on Facebook:
https://www.facebook.com/events/673298142704537
DATE
Saturday, November 23, 2013
TIME
01:30pm-02:00pm Sign in
02:00pm-5:00pm Competition
LOCATION
Ricochet Tactical
Tri County Mall (downstairs)
3041 Hempstead Turnpike
Levittown, New York 11756
http://www.ricochettactical.com
PRICE
$10/pp
PLAYER REQUIREMENTS
• Must have donate $20 or more to
Team Rubicon
after 11.9.13
EQUIPMENT REQUIREMENTS
• Semi-only capable gun
• ANSI rated eyewear
• Barrel Condoms for SMGs and rifles (those without condoms will be required to buy them from the field)
• All guns must be brought in covered cases
REGISTRATION
• Donate $20 or more to
Team Rubicon
. Any previous donations made for OP: Seabird will count toward this requirement.
• Post your confirmation # to secure a slot in the competition
• Max of 12 competition slots