If you decide that you want to add a beret to your loadout, one thing that you should know is that there is a process to forming your beret before you can wear it. You can buy your beret pre-formed, but it will cost more, and forming a beret is a simple process that I don't think you should waste money on. This guide explains the process of forming your beret.
DISCLAIMER: I am aware that there are multiple ways to form a beret; this method has proved to be the easiest and most cost effective way to form a beret, so please; no replies telling me I'm doing it "wrong" or how to do it "better".
Step 1: Saturate your beret in water. This may seem odd, but it makes your hat more malleable and allows you to manipulate it easier.
Step 2: Shave your beret. Again this may seem odd, but the first thing you should notice about an unformed beret is how fuzzy it is. A good shave gets it smooth and orderly looking. I recommend using a three blade razor. Also, if you don't mind getting your leg a little wet, mold the beret around your knee. Rounding the hat out makes shaving it easier.
Step 3: Mold your beret. First, re-saturate your beret with water, thus making it easier to shape. Also keep in mind that your beret flash, the hard piece on the inside, must be in front, while your beret "flag" (the two tassel-like strings) must be in the direct back.
There are two ways to go about this:
Standard military formal molding is the most popular beret form. Position the rim of the beret linear to your hairline, and fold the flap of your beret as far towards your ear as possible with out disrupting the rim's position.
The second most popular beret style is the Russian/paratrooper/airborne type beret style. This involves tilting the beret about 45 degrees. You want the tip of the beret to be below the start of your sideburns while remaining level with or above your earlobe.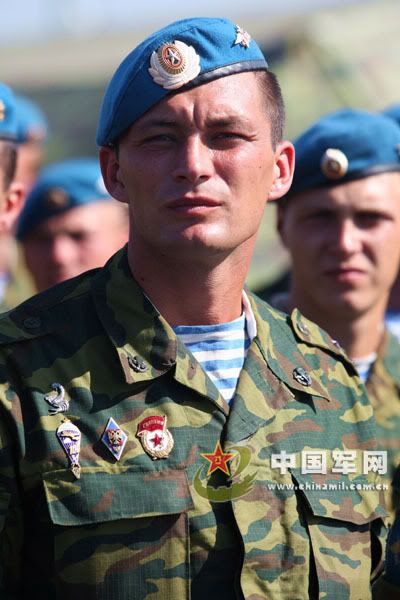 Drying your hat is up to your own discretion. I personally leave it on until it dries, thus not disrupting the form. But I suppose that there are other ways of drying it without disrupting the shape.
Image credit goes to
http://www.armystudyguide.com
and tssr.freeforums.org