Taken from MrSpank
Let me start with saying that I think we did great considering what we had to work with. Also, it seems that we had done a better job than I had initially thought. Most of the downsides of this event are due from circumstances beyond our control.
This was an event with three factions fighting over different objectives. Our objectives directly brought us against The Darkest Hour (TDH) faction. Or rather, pit them against us. We had to protect a rocket at the Launch Site. The launch site was 150-200m from the TDH starting position/respawn. This might have been OK in the original situation where TDH and us were evenly matched in strength. However, in reality we had about 20 and they had over 40. And JSOC faction would sometimes encroach into our battlespace, and we'd be forced to engage them as well. I don't remember offhand how strong JSOC was before game day, but I think it was at least 40. On actual game day, it probably was even more. So, we had that working against us.
To further complicate things, the event a first big event handled by Angel. Subsequently, there were hiccups. The one that really effected us negatively was that the rest of our faction didn't arrive to our starting area until game start. "Game-on" notice was given right as the last of our guys arrived. Of all the factions to hit the field, they should have been the first, not the last. Us six hit the field early because we needed time to plant our ordinance. We only requested about 20-25 minutes. It felt like we ended up sitting out there alone for an hour. During that time, we watched a group much larger than expected walk past us to the TDH starting point. They didn't need to do any set up. We did need to do setting up to establish defensive fighting positions. Besides that not happening, I'm not even sure how many guys got to utilize the structures as pill-boxes. Despite all of that, we made it a fight for them that they thought was tougher than they were expecting. Some were later heard describing us as "ninjas" in our ability to pop up and take out 10-15 of them. How about that!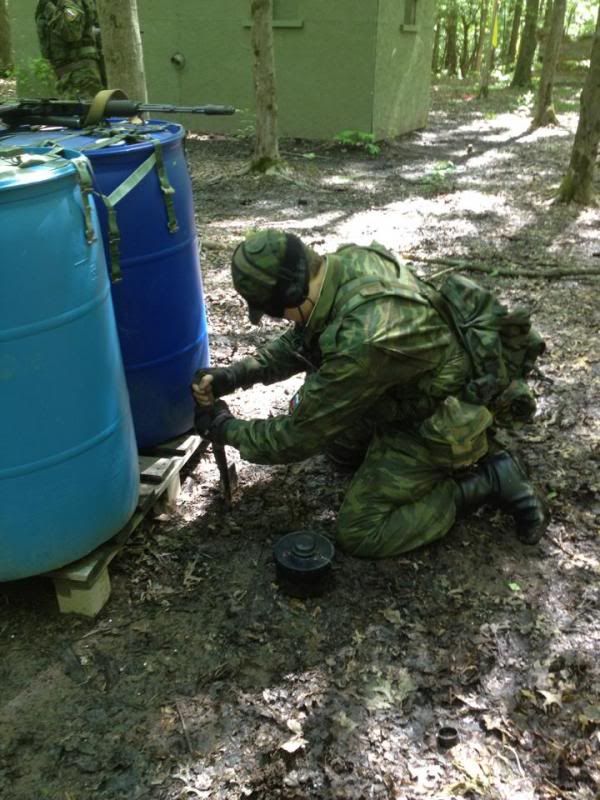 After they got to the rocket, they pulled back. Their mission was to remove the core of the rocket which contained the Biological or Chemical agent called November Rain. It was a nice prop made by Angel. Perhaps, too nice. There was supposed to be a specific way to safely remove the core from the rocket. They didn't seem to have gotten that memo, they did it wrong, and technically released the B/C agent killing everyone, game over. But this was discovered after the event. Though, I did radio in to Angel that some of the internals from it spilled out.
Our next mission was to pull back to our stronghold. That was the village/CQB portion of the field. It turns out that our two super soldiers were there, guarding our VIP. They had been fighting back the JSOC forces from the East. Though, when we arrived, I didn't see either of these "Juggernauts." As it turns out, we were sent there in error. Game command was under the impression that JSOC had acquired the November Rain. In fact, it was still with TDH. So we wasted our time trying to fight through the town and chase someone we didn't need to. Soon after we had a our lunch break.
During our break we re-assessed the situation. This is where it became apparent that we were the smallest faction, and we were tasked with protecting the axis of interest. We had to stretch out ourselves and defend an area from forces four times our size. It was the assessment of Angle that JSOC were particularly fierce and effective, so he suggested we team up with TDH when the game starts. Something we had to accomplish, not something that was just a given or to be done in staging.
We hit the field, and made radio contact with TDH. We met with a representative at the launch site. They didn't seem to trust us. I made up the story that we needed to team up with them to teach The American invaders a lesson on interfering in our sovereign country. That we'd be happier to deal with terrorists that let the Americans go unpunished. That every country the US interferes in, ends up in a much worse situation. We brokered a deal, and rejoined our forces in the Lab/Village/CQB field.
There was light fighting. None seemed to have broken our perimeter. Well, a few made it a couple of feet from the North East corner. Almost all our combat was focused into the tree-line, up to the downed helicopter. The Juggernauts were heat casualties and hit the staging area about 1/3rd of the way into this portion of the game. Though, I don't think we suffered at all for it. Some of the TDH did not get the memo about our truce, so they did enter town shooting us. That got resolved quick enough, but they still entered town that we totally controlled in a way that was too hostile in posture. TDH was supposed to bring their captured November Rain so that it could be detonated in our lab. Their commander didn't seem trust us. That someone we were going to betray them. While we were waiting for their leader to arrive with the package, we had no direct combat with JSOC. Just received a bunch of mortar attacks of nerfs and smokes. Portraying standard mortar rounds and C/B rounds. Eventually it arrived, and Sonic set it off. Game.