For this years OP Lion Claw event, Red Storm West I traveled to Oregon City, OR where I was XO for Russian forces. The CO this event was former Ranger "Bubba" Moore, Bubba has won every single LC game when he was against Mad Max leading the rangers. Each time out numbered and this event was no different save that Mad Max could not make it and this time but we were outnumbered 2:1. I have played on Bubba's faction at every single lion claw event he has been too, save this weekends Shahrazad 2 event in VA. You can't be around this guy more than 2 minutes and not laugh. Most of it is not clean enough for this forum. To sum it up, Bubba is the ultimate drinking partner that you would goto war with.
It is arguably the largest industrial AO available to airsofters. The flight from JFK was just over 5 hours to Portland, OR. Then a 20 minute drive south, the hotel is the closest to the AO that lion claw ever had. If you got lucky with the lights, you could get from the hotel to the AO in 90 seconds.
Food options were great with a super market and a rite aid across the street from the hotel, the hotel had a built in bar/grill. But that didn't stop me from going to down town portland both game nights with the Co-owner of Fox Airsoft, Matt Meraz and one of his good buddies/employee from Colorado. Who is also a sponsor of lion claw events, myself and Matt Meraz go back a few years, he himself has been attending LC games since I think Irene 2 or 3.
One section of this AO is the scranton/RSE AO alone, along with many pathways for the vehicle to drive right up to an office room door.
It has just epic back ground sites, the first being the water fall and power substation
below
the AO.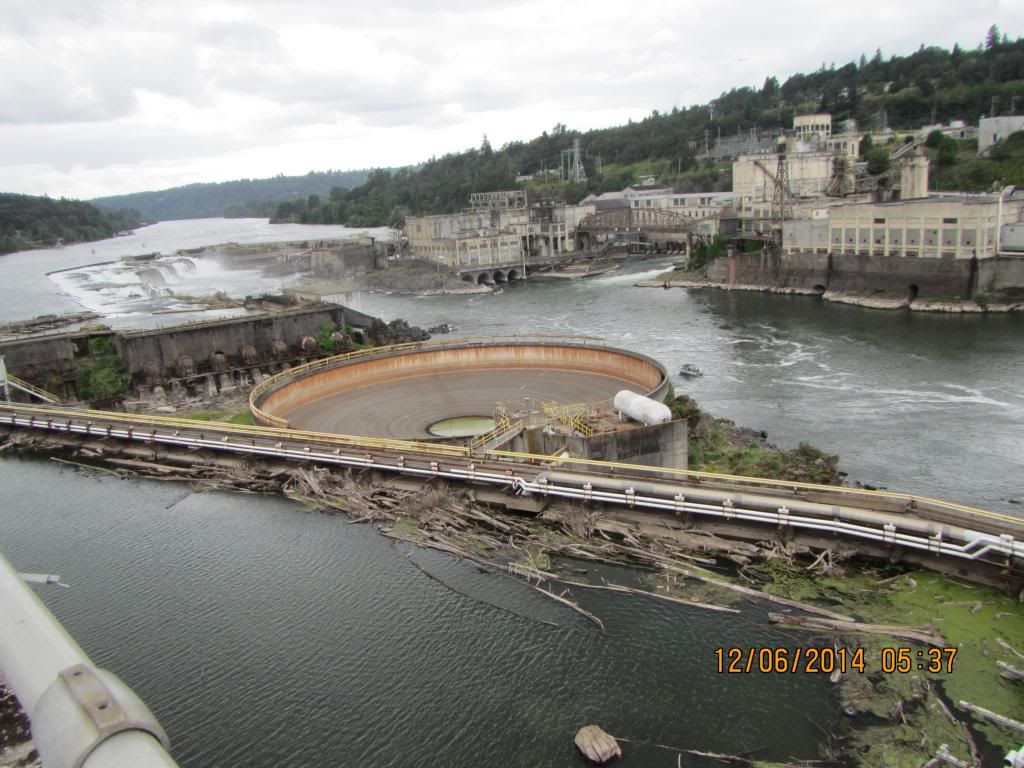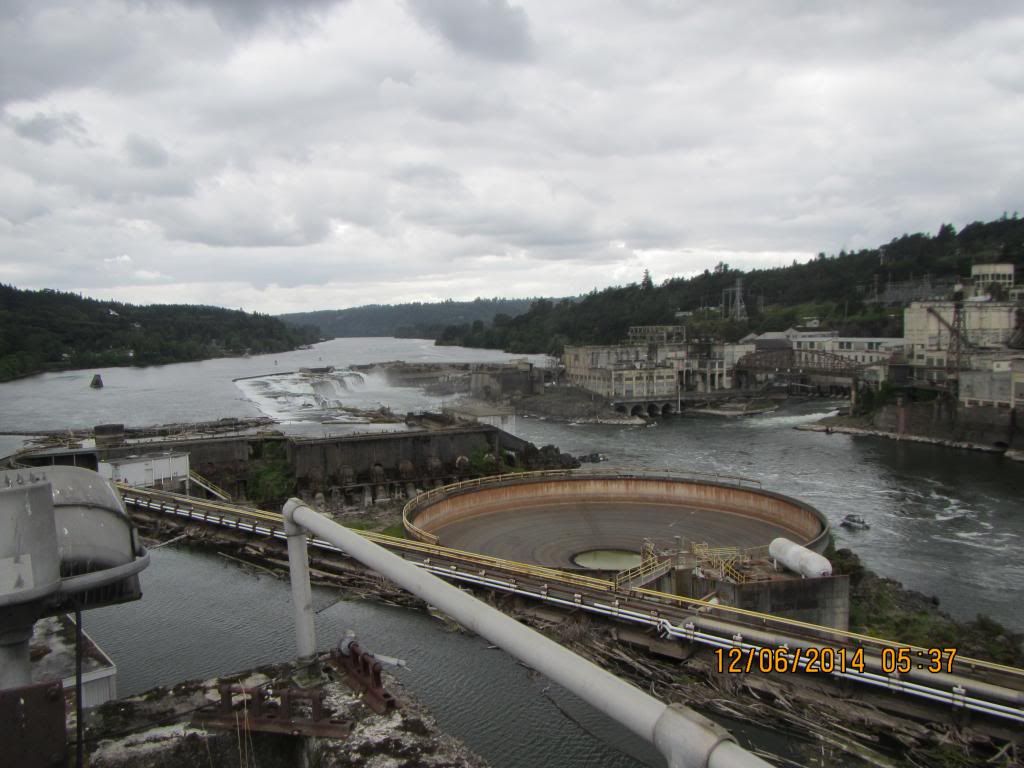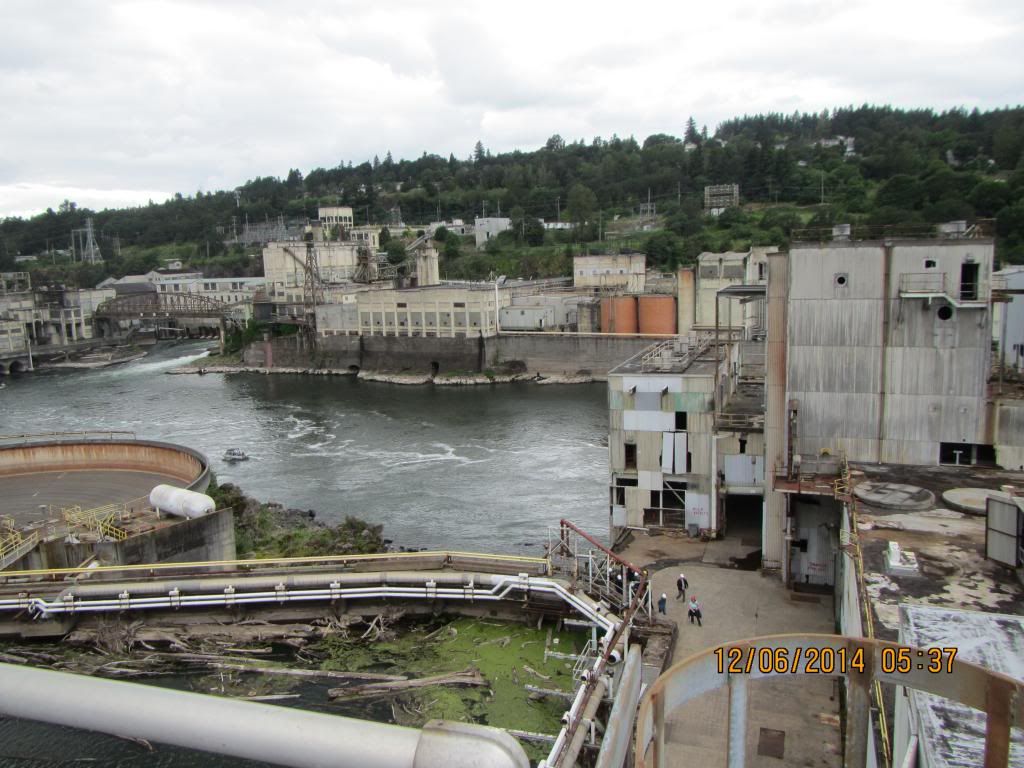 here is a video clip from the view of a rear building looking at this waterfall area
https://www.youtube.com/watch?v=FdrG4wVhcLM
Best seen on the roof tops, we could tell all the people on kayak's were staring at us. We did get a few police visits to the AO saturday about 3 times, but they were all well aware and actually wanted to finger bang AEG's.
The second thing in the back ground which made this place audibly dynamic was the
100
car train that barreled down to the other side of the AO about 300 feet away, every-half-an-hour. Deafening would be a kind word and really halted comms and combat when the fighting was near it. Within 50 feet of the AO adjacent the train tracks were joggers that had full view of us, most stopped to take pictures.
This place being a paper mill in it's hayday, had a very intricate layout. Especially the rooftops, the battles reminded me of stories of Stalingrad during WW2. Where one side took over one floor while the other side had control of another floor, while they try to attack each other from another side if stalled.
Here is a video clip of just how intricate the roof tops battles were
https://www.youtube.com/watch?v=VdqFA6lSnBc
while the rangers were fighting in one area and tried to get to the roof to cross over, the Russian forces were literally driving players right up to stairwells on the ground floor of much of the AO.
https://www.youtube.com/watch?v=VdqFA6lSnBc
In this footage myself and the CO, Bubba making way across 2 massive sized buildings via catwalk to get a better view and to spy on the rangers. We held back a whole squad trying to use the building ahead of us to get closer to our spawn. These roof tops are within striking distance of the roof tops in the previous video. So you can't assume safety while up there. Comm's were tough at times, all that steel and concrete made it troublesome and this was the first LC event I know of where a helmet was required. Plenty of things to bang your head against.
https://www.youtube.com/watch?v=Oq6BvHR2SWk
this is me and the CO again being sneaky bastards moving out way up from the AO entrance below all those floors of very dark basements and 1st floors. I found it funny we could have both fallen into the river at 8:30. As stated before, this place was a former paper mill. A lot of piping was taken out, so you literally have cavity's that can extend 2 floors up in a straight line. It got too dark by the near end of the video so i turned off my contour. Bubba got a great kill about a moment after. some ranger player decided to look down to the basement via one of these 2 foot wide holes where a pipe was. Bubba whispers "is that some guys.." he quickly snaps his rifle to his shoulder and single shot to the nose.
With about 30 minutes left on Sunday, the vehicle owned by a new airsoft prop company called "action figures LLC" based from the area let us go on drive-by's. On the actual vehicle are pyro charges to simulate a vehicle kill.
https://www.youtube.com/watch?v=Zr4lzOcdJ28
just watch how far in the vehicle is able to go within a building.
....and the game is over and i left my contour on for a minute after parking the vehicle for the final game photo.
https://www.youtube.com/watch?v=a2OaRwC2-l8
looking forward to the sequel at this place, it will be torn down but the legal logistics may take a few years. So time is in favor of a second event there.
Here is the photo album for the events shutter bug company called slamfire productions.
https://www.facebook.com/media/set/?set ... 714&type=3
This is the lion claws official link
https://www.facebook.com/media/set/?set ... 526&type=1
Have to thank John Lu for finding the epic location along with a forum member on the airsoft pacific forum (clown baby) for scouting and securing this place. To Greg Brothers running the show and all the vendors that came out and supported it. It was the most per player of any LC game so far.
If your reading this Greg, please consider for hopefully next year keeping it full auto out doors and semi indoors. There were many a moment myself or bubba or other Russian players needed to take on a group and they ability to suppress helped a lot.
This place, if the photos don't make you realize is massive. Another 100 players would still disappear.